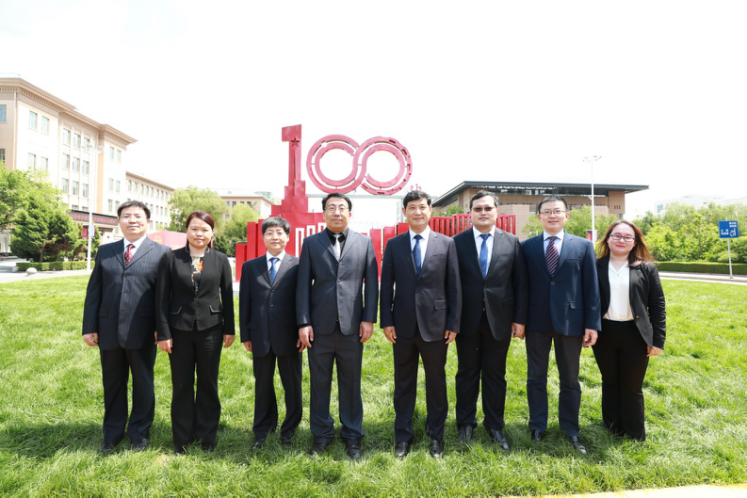 Members of Management Team

Director & Dean of School of Computer Science of Technology: Liu Ting(4th from left)
Secretary & Vice Director: Sun Wenbo(4th from right)
Dean of School of Computer Science of Technology at Weihai Campus & Vice Director: Chu Dianhui(3rd from left)
Dean of School of Computer Science of Technology at Shenzhen Campus & Vice Director: Wang Xuan(3rd from right)
Dean of School of Cyberspace Science and Technology & Vice Director: Zhang Hongli(2nd from left)
Dean of School of Software & Vice Director: Wang Zhongjie(2nd from right)
Vice Director: Wu Xiangqian(1st from left)
Vice Secretary: Shan Jiyang(1st from right)
Message from the Director of Faculty
Founded in 1956, the computer major at Harbin Institute of Technology(HIT)has more than 60 years of history and foundation. It has formed distinct disciplinary characteristics, trained a group of outstanding talents in the field of computer, obtained a series of significant scientific research achievements for national security, national defense, aerospace, and national economy. It is now among the top 100 computer science disciplines in the world.
On the occasion of the centenary anniversary of HIT and standing at a new starting point, Harbin Institute of Technology has established Faculty of Computing, which is built across campuses, including School of Computer Science and Technology, School of Software, and School of Cyberspace Science in Harbin, and coordinating Schools of Computer Science and Technology in Weihai and Shenzhen campuses as a whole. Harbin Institute of technology will build a strong disciplinary group of computing and provide assistance for the development of other related disciplines in the era of intelligence.
All teachers and students in Faculty of Computing of HIT will seize the opportunity, work together to forge ahead, and continue the legend through adhering to the school-running philosophy of developing first-class disciplines, producing first-class achievements, building first-class bases, and cultivating first-class talents, and revitalizing school, strengthening FC, honoring HIT, serving China.